Band master apologises over Limavady parochial house urination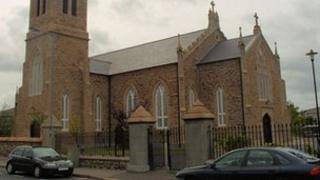 A band master has apologised to a County Londonderry priest after a photograph emerged that appears to show two men in band uniforms urinating against the gate of a parochial house, the BBC understands.
The incident took place on Irish Green Street in Limavady on Friday.
The Parades Commission has launched an investigation and the police have cautioned one man.
It is understood the loyalist band is not from Limavady.
BBC Radio Foyle understands that a loyalist band master has verbally apologised to the priest at St Mary's Parochial House on Irish Green Street and a letter is to be sent.
"We are aware of this allegation and we are investigating about what happened on Irish Green St on Friday 9 May," said a spokesperson from the Parades Commission.