SDLP candidate Jimmy Carr quits party on eve of election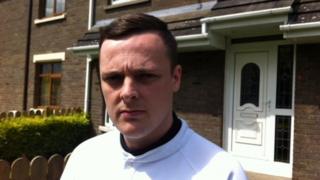 Council candidate Jimmy Carr has confirmed he is quitting the SDLP after the party withdrew support for him.
The SDLP's decision on Tuesday came after it emerged police were examining a tablet computer owned by Derry City Council.
The iPad is not believed to be Mr Carr's but he said non-council related messages about drugs on it are alleged to involve him.
Mr Carr, who sits on the current council, denies any involvement.
He said he was the "victim of a witch hunt" and would now stand as an independent.
Police later confirmed they were examining a second iPad, and a spokesman said they were examining both devices to "establish whether any criminal offence has occurred".
'Devastated'
The SDLP said candidates canvassing in Mr Carr's election area Ballyarnett were no longer being asked to promote his campaign.
The party said it did not want to prejudice any investigations.
Mr Carr told BBC Radio Foyle he felt "disgusted and devastated" at the way he had been treated.
"There is no justification for the SDLP withdrawing their support," he said.
"The truth eventually comes out.
"According to social media, I've been accused of being a drug dealer and being involved in the shopping for drug dealers. I have nothing to do with drugs.
"I can't believe this has all happened but I'm not surprised. Over the last year or so there have been numerous attempts to remove me from the party.
"My whole family has been putting a lot of work in for the SDLP over the years. We are steeped in SDLP history. Everything in our house is SDLP.
"Absolutely no way will I stay in the SDLP. I'm an innocent man.
"My main focus is representing the people of Derry. I will let the people of Derry decide my fate, not the SDLP."
Jimmy's father, Sean, who is also running as a candidate in the elections for Northern Ireland's 11 new 'super-councils', said he felt "devastated" for his son.
"It's the way this has been done - the first I knew about this was through the press," he said.
"I can remember working for John Hume. I go way back with the SDLP.
"I'm continuing as an SDLP candidate but I need to talk to the party to see if they want me. It's questionable at the moment if I want them.
"The police or council haven't contacted us."