Woman speaks of 'relief' after former partners jailing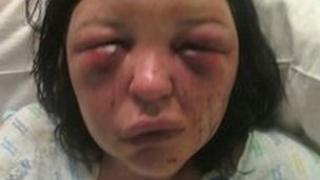 A Londonderry woman who was subjected to a campaign of sexual and physical abuse by her former partner has spoken of her relief at his jailing.
34-year-old Greg Logue, from Duddy's Court in the Waterside, was jailed for three years on Friday.
Logue sexually assaulted Terri-Louise Graham at home, in a hotel and at times in public over a three-year-period.
His three-year-sentence is to run after he has served a seven-year-sentence, also for assaulting Ms Graham.
Ms Graham, who previously waived her right to anonymity, told BBC Radio Foyle that she is now ready to restart her life.
'Way out'
"Even though it seems like a short sentence, I got what I want from it," she said.
"I have had so many women sending me messages asking for advice. It felt great to know that I have reached these women.
"Nobody, whether a man or a woman, deserves to be abused by anybody," she said.
"I am proof that there is a way out. I want to help men and women who have gone through what I have gone through.
"There is light at the end of the tunnel and I am learning to deal with it."
Logue will also be subject to a sexual offences prevention order for seven years and must sign the sex offenders register indefinitely.