Nathan Hastings admits guns and explosives charges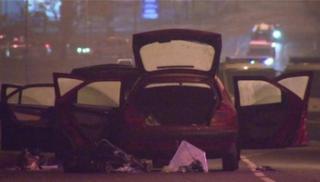 A 21-year-old man from Londonderry has pleaded guilty to possession of guns and explosives.
Nathan Hastings, of Stradowen Drive in Strathfoyle, was arrested after police stopped two cars on Northland Road in April 2013.
Officers had found a pipe bomb, a pistol, ammunition and two modified blank-firing handguns in one of the cars.
Hastings was the only person in the vehicle.
His trial had been due to begin on Wednesday, but instead he pleaded guilty after asking for the charges of possession of arms and explosives to be put to him again.
An earlier court hearing was told that the security operation had been "intelligence-led".
Hastings had previously given several media interviews on behalf of dissident republicans in Derry.
He is due to be sentenced on 27 June.