CCTV footage shown of theft of almost £9,000 worth of cigarettes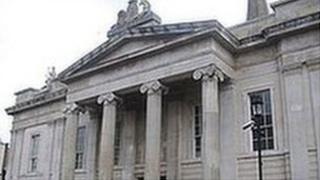 A jury at Londonderry Crown court has been shown CCTV footage of the theft of almost £9,000 worth of cigarettes.
It happened in December 2012 when a delivery lorry was parked outside the Mace shop at Garden City at Culmore Road.
Two men have already pleaded guilty to their involvement in the robbery.
Jason McMillan, 23, from Saint Peter's Place, Belfast, is currently serving a prison sentence.
The second man who pleaded guilty, Conor Kelly, 40, from Killough, County Down, is on bail awaiting sentencing.
In court on Monday, the trial of John Joseph Nugent, 50, from Clonfadden Crescent, Belfast, started.
He denies being the third member of the gang that store the cigarettes.
A prosecution barrister told the jury that a maroon coloured Honda Accord was used as the getaway car after the theft.
The car was found abandoned at Clooney Terrace soon after the robbery, following a police chase.
Inside the car and a nearby garden the police found clothing similar to that worn by one of the robbers.
The clothing was forensically examined and the defendant Nugent's DNA was found on it.
The barrister said the defendant, in his police interview, said he donated his clothing to a charity and did not know what happened to it after that.
The trial continues.