Trial of Londonderry charity director Eddie Kerr begins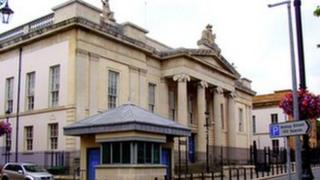 Eddie Kerr, former director and project co-ordinator of Londonderry charity SEEDS, has appeared at the city's crown court on fraud and forgery charges.
The charity offered training courses and events to help migrants integrate into the local community.
Mr Kerr, 60, from Ashfield Terrace in the Creggan Hill area of Derry, faces a total of 15 charges.
He denies committing the offences between February 2009 and March 2011.
Mr Kerr faces seven charges of fraud, four charges of forgery and four charges of using another man's name to make applications for financial assistance to three government agencies.
The charges relate to alleged applications made by the defendant to the Office of the First Minister and Deputy First Minister (OFMDFM), Derry City Council and the North West Peace Cluster.
One of the charges is that he made an application for £30,000 in funding in 2010 to OFMDFM to sustain his position as director of the company, while failing to declare he was already under a contract of employment and receiving funding for another post.
A prosecution barrister said: "The defendant must have known that when he applied to one of the groups for funding he had already received the funding from one of the other groups.
"The defendant knew full well that if he disclosed to one of the groups that he had already received funding, he would not have received further funding for the same purpose.
"In essence we simply don't know what he did with the money."
The barrister told the jurors that in his second police interview the defendant handed the officers a prepared statement that read: "If I am culpable of anything it is of re-profiling money without permission and of poor administrative practices.
"I am conscious this was public money and as such I am accountable for that spend."