Thomas Ashe Mellon charged with directing dissident republican activity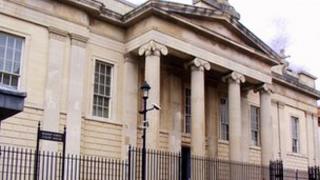 A man has appeared at Londonderry Magistrates Court on charges linked to dissident republican activity in the city.
38-year-old Thomas Ashe Mellon, Rathmore Road, Derry, is charged with membership of a proscribed organisation, namely the IRA, and with directing the activities of the IRA.
He denies committing offences between dates unknown and last Thursday.
He was remanded in custody and the case was adjourned until next month.
A police witness told the court that she believed the defendant, who was arrested in north Belfast on Thursday, had a prominent position within the IRA in Derry and as such planned and directed dissident republican activity.
The witness told the court that she believed prison staff at Maghaberry prison last week intercepted a letter written by the leadership of an illegal organisation.
'Handwriting expert'
She said that the prison officers seized the letter, which was written on cigarette papers joined together, and wrapped in cling film, from a man known as 'Mr O' at the prison last Thursday.
Mr O, who police are seeking, walked away, and later on the same day he was seen talking to the defendant outside the Oakleaf on the Glenshane Road.
The witness said the letter was examined by a forensic scientist and by a handwriting expert.
The defendant's DNA was found on the joins of the cigarette paper and the police believe he joined the papers together by licking them.
No other DNA was found.
She said the handwriting expert believed the writing on the letter supported police beliefs that the defendant was its author.
The defendant, who remained seated throughout the court hearing, and who refused to confirm his date of birth and his address, then listened as the detective constable read out the letter in full.
Applying for bail, the defence solicitor described the letter as hearsay and said its contents were mainly a rant.
He described the prosecution case as 'weak' and said it did not justify the defendant being remanded in custody for up to a year before any trial.
However, the district judge described the charges as extremely serious.
He refused bail for fear of further offending coupled with the public interest.
The defendant was remanded in custody to appear for a video link hearing on 3 July.