Man blinds himself in Maghaberry prison cell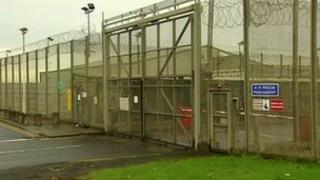 The parents of a man, who blinded himself while in Maghaberry prison, County Antrim, have said they want a full investigation into what happened.
Sean Lynch, 23, had been remanded in custody facing assault charges.
His parents were contacted by prison staff who were told their son had inflicted injuries to his eyes.
A spokesperson from the Northern Ireland Prison Service said: "Prisoners are assessed at risk of self-harm".
"We don't comment on individual prisoners," the spokesperson added.
"Prisoners are managed in accordance with our procedures for supporting prisoners at risk.
"We work closely with South Eastern Health and Social Care Trust colleagues who are responsible for delivering healthcare in prisons."
The Prisoner Ombudsman's office said it has not received any complaints about Sean Lynch's case but that it would investigate them if and when they are made.
'We need Justice'
Damien Lynch, who is Sean's father, said: "This should never have happened".
"I was told he was getting watched and that he would cause no more harm to himself," he said.
"I was told officers and cameras were watching him.
"I got a phone call to say he has caused injuries to his eyes. He has blinded himself.
"He has been to the doctors before. He does have mental health problems.
"He has injured himself before. I don't understand how he was allowed to be put back in a cell.
"He was inside for a reason, but he is entitled to his rights. This is really scary for him."
Blind
Terry Johnston, Sean's mother, said: "My son will never be the same again.
"It should never ever have come to this. I wouldn't wish this on anyone else. He is never going to see again or do any of his sports.
"He said all he wants to do is die. He hasn't come to terms with it. He went in as a healthy 23-year-old and he came out blind.
"This is very distressing. We have to care for him now the rest of our lives. He was a talented footballer.
"He has been let down. I'll do anything I can to stop this happening anyone else.
"We need justice. He's like a baby now."
A Western Health and Social Care Trust spokesperson said: "Respecting confidentiality, the Western Trust does not comment on the individual treatment and care of its patients or clients."
SDLP MP Mark Durkhan has written a letter to Justice Minister David Ford calling for an inquiry.
SDLP councillor John Boyle, who knows Sean Lynch, said the situation is "very disturbing and upsetting".
"Sean is a vulnerable person. When I first heard about this I was deeply upset. It's horrific.
"He was under the care of those who work at Maghaberry. He hasn't been looked after properly the way he should have been.
"If it requires 24 hour care then so be it. The inquiry needs to look at how Sean was able to do this to himself."