Weather conditions delays Clipper Round the World Yacht Race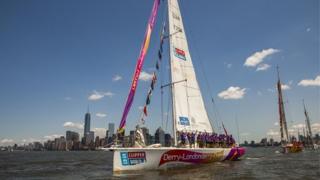 The arrival of the Clipper Round the World Yacht Race in Londonderry has been delayed because of poor weather conditions.
Derry is the penultimate stopover on the world's longest ocean race, which left London in September.
A week-long maritime festival, with a race village, summer promenade and sea-faring activities will begin on 21 June.
Light winds and high pressure in the Atlantic Ocean has led to a delay.
Some of the yachts were expected to arrive in Derry from Saturday but will now start to arrive on Monday 23 June.
Headwinds
Race director, Justin Taylor, said the weather "has complicated things".
"There are four different weather systems affecting the fleet," said Mr Taylor.
"There is low pressure over the Iberian peninsula and also a low north west of this, centred south of Greenland.
"There is high pressure south west of the fleet and of course high pressure to the north east over Ireland, which is giving the UK warm weather at the moment.
"The fleet is generally sandwiched between all four systems where there is light fluky wind and probably will be so for at least a further 24 to 36 hours.
"This will produce low boat speeds. As they head further east, the yachts will encounter headwinds and will have to beat for the final 1000 miles."
The Derry-Londonderry-Doire yacht is skippered by Derry man Sean McCarter.
Up to 100,000 people are expected in the city for the programme of events.
There will be outdoor concerts across the city.
The American rock band, the Beach Boys, has been confirmed as part of the programme.