Drug and alcohol addiction services to be expanded in Omagh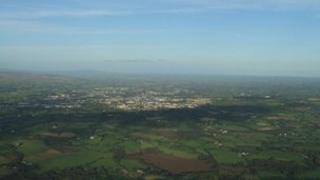 Drug and alcohol addiction services, which were under threat in the north west of Northern Ireland, are to be expanded.
The authorities have said an existing unit in Omagh, County Tyrone, will operate on a 24-hour basis.
The move comes after a public consultation.
The Health and Social Care Board has approved a three-site, 30-bed regional network.
The board's Aidan Murray said: "A series of public meetings and service user workshops highlighted concerns regarding access to services.
"Any decrease from four to two sites would effectively limit the opportunity for people in the western area, who require inpatient addiction treatment, to engage with services at what is a particularly vulnerable time in their lives.
'Vulnerable'
"Recognising this, and acknowledging best practice guidelines, the plans agreed reflect these concerns and propose a regional network with addiction treatment services accessible to the whole population of Northern Ireland.
"This configuration, which will be discussed and agreed with trusts in coming weeks, will ensure that more consistent and improved services are available for all residents in Northern Ireland.
"The network delivered on the three sites will have an enhanced provision in terms of hours of accessibility and the amount of resources dedicated to it."
Sinn Fein MLA Maeve McLaughlin, who is chair of the health committee, has welcomed the move.
"The previous plan included provision for two sites with 24 beds, which would have limited the opportunity for people throughout the trust's area to access these vital services," she said.
"Now people from Derry, Strabane and across the wider area, will be able to access expanded treatment services at the Omagh site, including detoxification and rehabilitation.
"The facility in Omagh currently operates on a part-time basis but these plans will see it move towards a 24 hours a day, seven days a week service with additional resources."
'Disappointed'
SDLP Foyle MLA Pat Ramsey has expressed disappointment because a "Derry-based accessible service was not considered".
"During the consultation, I made clear in my submission that a detoxification centre should be sited in Derry and that resources to allow it to operate 24 hours a day should be put in place," he said.
"I am very disappointed the Health and Social Care Board have not widely considered my submission that we should have a local site, fit-for-purpose for the people of Derry.
"Whilst this is a reprieve for the services in Omagh, we have to ask if it will mean increased access for the people of this city and whether the increased accessible hours and resources outlined in the boards announcement will mean the services are flexible enough in the long-term."