Police officers 'draw guns' before Derry neighbourhood arrest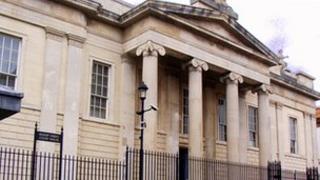 Two police officers drew their guns before they handcuffed and arrested a father and son on Saturday, Londonderry Magistrates' Court has been told.
They were arrested following a dispute in the Steelstown area of Derry.
Patrick Carlin, 52, was topless and covered in blood from a head wound when he was arrested, the court was told.
His son, Glen Carlin, 19, has been charged with threatening to kill members of a neighbouring family and with disorderly behaviour.
Patrick Carlin has been charged with possessing a machete, damaging his neighbour's car and garden fence, threatening to kill members of the same family and with disorderly behaviour.
Machete
Both defendants live at Amelia Court in Derry.
A police officer told district judge John Meehan that police received reports that Patrick Carlin was walking around the estate wielding a machete.
He was also carrying a brush shaft, the court heard.
Police found the machete in a garden after eyewitnesses told them that the defendant Patrick Carlin had thrown it there.
A police witness said she objected to bail being granted because she believed both defendants would re-offend and would interfere with witnesses.
The defendant Glen Carlin was released on bail to reside with his mother at Knockdara in the Waterside area.
He is to be electronically tagged and he must abstain from alcohol and observe a 22:00 BST to 07:00 BST curfew.
His father was remanded in custody until 24 July.