'More public toilets needed in Derry' says the British Toilet Association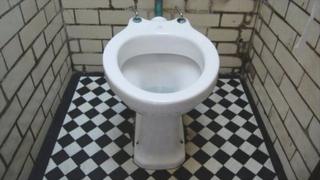 The British Toilet Association has said it hopes to assess the need for more public toilets in Londonderry after a meeting with Derry City Council.
Councillors in Derry will meet the British Toilet Association (BTA) on Thursday.
There were a number of complaints made during UK City of Culture year about a lack of toilets in the city centre.
Raymond Martin, of the BTA, said he would advise the city council on "what they need and how they can get it".
"We will be looking at toilet provision throughout Derry because the city needs to have enough toilets in the right place," said Mr Martin.
"Public toilets are needed in Derry. Provision is diminishing everywhere.
Survey
"We have lost around 50% of public toilets across the UK over the past ten years because councils don't get enough funding from government.
"Councils don't have a legal responsibility to provide toilets. It can be difficult for councils to find money.
"Derry City Council has done well to look at how shops and stores can help out in the city.
"Toilets can be expensive and they can attract vandalism too. It can be a juggling match for councils.
"A lot of councils have introduced automated toilets that can be used for 20p, which is very good value.
"I hope the councillors in Derry will ask me back to do a proper survey."