Dard move to Shackleton site in Ballykelly approved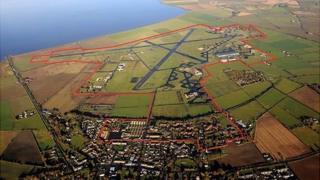 The Northern Ireland Executive has given its approval for the Department of Agriculture and Rural Development (Dard) headquarters to move to Ballykelly, County Londonderry.
Agriculture Minister Michelle O'Neill has confirmed that all of the £44m needed has been secured.
Dard has said around 700 posts will be relocated to the former Shackleton army barracks in two phases.
A Dard spokesperson said 340 posts should be relocated by the end of 2017.
The department headquarters are currently based in Dundonald House in east Belfast.
The Ballykelly site was given free to the Northern Ireland Executive by the Ministry of Defence in 2011.
Building work is to be completed by late 2017.
While former finance minister Sammy Wilson had concerns about the decision to move the department, Dard Minister Michelle O'Neill said she always remained committed to the move.
Mr Wilson's concerns came to light after an investigation by BBC Northern Ireland's The View.
The View found Mr Wilson was asked to approve a decision by the agriculture minister to overrule advice from her permanent secretary and opt for Ballykelly, without further appraising other potential sites.
'Economic improvement'
Ms O'Neill's ministerial direction had to be approved by the finance minister.
But it emerged he, too, had concerns and, because the decision affected other departments, he brought the matter to the executive.
Ms O'Neill announced on Tuesday that the executive had supported plans to relocate the department.
"Now that this approval has been received we will now press on with the necessary detailed design work," said Ms O'Neill.
"We hope to begin the building work by the end of 2015 for completion late 2017.
"The plan is to make the move in two phases, the first by the end of 2017 and the remainder by the end of 2020.
"Consistent with the executive's commitment to relocate to a rural area, this move to Ballykelly forms part of a broader programme of relocations.
"Not only does this decision facilitate meeting my Programme for Government target to advance the relocation of Dard's headquarters to a rural location, but I also expect these moves to deliver real social and economic improvement in rural areas."