Limavady bonfire: Election posters 'inciting hatred', says Sinn Féin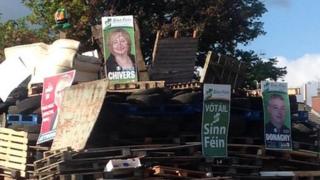 Sinn Féin councillors in Limavady have said some people are "inciting hatred" by placing election posters on a bonfire.
The posters belonging to Sinn Féin's Brenda Chivers and Rory Donaghy have been placed on a bonfire in Anderson Park, near Edenmore Road.
A sign saying KAT, a derogatory threat against the Catholic community, has also been placed on top of the bonfire.
A complaint has been made to the police.
Limavady Borough Council have said they are aware of the issue.
Councillor Brenda Chivers said: "I was driving past and I couldn't believe what I saw.
'Unacceptable'
"This has really upset me. It's unacceptable.
"This sends the wrong message to children in the area.
"If they are going to celebrate the Twelfth then they should do it nicely. This is just so disrespectful.
"If they don't come down then I would like to see council funding withdrawn for an upcoming fun day in the area.
"This is purely sectarian and inciting hatred. The Edenmore road is not a pleasant area for nationalists at the moment."
'Hatred'
Councillor Rory Donaghy said he had also been in contact with the police about the situation.
"This so-called expression of culture amounts to nothing less than hatred and needs to be condemned," he said.
"We have seen a rise in tensions in the town recently with the flying of flags.
"Political and Orange Order leadership must now put the shoulder to the wheel to ensure that this situation does not escalate."