Sinn Fein election posters removed from Limavady bonfire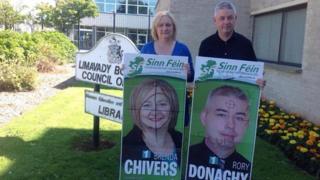 Sinn Féin election posters have been removed from a bonfire in Limavady, County Londonderry, after police and the local council intervened.
The posters of Brenda Chivers and Rory Donaghy were placed on a bonfire in Anderson Park, near Edenmore Road.
The party said some people were "inciting hatred" by placing the posters on top of the bonfire.
The posters were removed after a complaint was made to the police.
A sectarian sign was also placed on top of the bonfire.
Ms Chivers had called for funding for a forthcoming fun-day in the area to be withdrawn if the posters were not removed.
A spokesperson for Limavady Borough Council later confirmed: "All election campaign posters have been removed from the bonfire."
A PSNI spokesperson said they were aware of the issue and had liaised with Limavady Borough Council and community workers in the area.