Derry-based firm Maydown Precision Engineering to create 40 jobs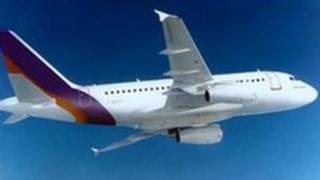 A Londonderry-based engineering firm is to create 40 jobs after bringing a new investor on board.
Maydown Precision Engineering (MPE) will create the jobs after Manchester-based A2E Venture Catalysts bought a majority stake in the company.
It did not disclose how much it had paid for the shareholding.
MPE supplies parts to major aircraft manufacturers Bombardier, Airbus and Boeing.
It currently employs 135 staff in Derry and has started recruiting for a further 40 engineering jobs.
Amin Amiri, the owner of A2E, has become a majority shareholder in MPE alongside its managing director Sean Phelan.
'Greatly enhance'
Mr Amiri said £2.5m would now be invested in the company's plant and machinery.
He expects the business to grow by as much as 25% per year.
"Our desire is to greatly enhance the expertise and capacity of MPE, and our vision is to surpass being a supplier and to become the strategic partner of choice for our existing and future customers," he said.
Mr Phelan said A2E would be a "strategic and long-term investor" in the business.
He added that the "specialist workforce" would be increased by 40 jobs "in the near future".
Corporate finance advisers Horwood Neill Holmes (HNH) brokered the deal for Maydown.
Craig Holmes from HNH said: "It is great to see another Northern Ireland company attract outside investment to help realise its growth ambitions.
"MPE has a blue-chip customer base and will enhance sales globally following this investment."
Derry Mayor Brenda Stevenson said she was "absolutely delighted".
"Obviously these are high-end jobs, and Derry is an unemployment blackspot, so this is a really good news story," said the SDLP representative.
"We've got highly skilled people out there who are well-trained, so hopefully this will give them a boost and a bit of hope that they need."
Sinn Féin assembly member Raymond McCartney said it was "a great boost for the local economy".
"The confidence of this investment will also send a positive message that the North West is competitive and a good place to invest," he added.