Derry man banned from all Northern Ireland shops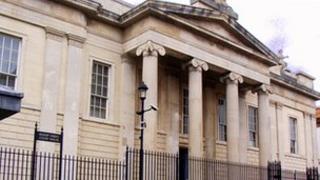 A shoplifter has been banned from going into any shop or shopping centre in Northern Ireland.
A district judge told Declan Kinfella, 24, from Clooney Mews, Londonderry, his criminality was getting into the realm of a professional shoplifter and traders had to be protected from him.
Kinfella was released on bail to appear again in court on 18 August.
He admitted stealing fragrances, a sports top and a watch from Foyleside and Richmond shopping centres.
Kinfella, who has nine previous convictions for theft offences, also admitted stealing a golf club from the Cashmaker shop on Shipquay Street on 25 July and then trying to sell the club back to the shop staff 15 minutes later.
Kinfella further admitted stealing a winning scratchcard from a parked car at Clooney Terrace on 27 June.
A police officer said Kinfella told her he found it hard to stop stealing from shops.