Warning over kiss image of Peter Robinson and Martin McGuinness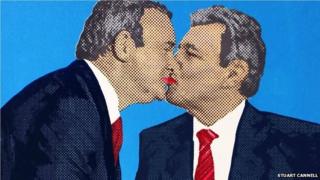 A warning sign has been erected at an art exhibition in County Tyrone after it displayed a piece showing Peter Robinson and Martin McGuinness kissing.
The made-up image of the two politicians is part of a display at the Strule Arts Centre in Omagh.
The centre has erected a sign warning the public that some images contain adult content.
The artist, Stuart Cannell, said the warning was a "form of censorship".
Speaking on BBC Radio Foyle on Thursday, Mr Cannell said he believed the sign was discriminatory against gay people, and that it would not have been put up if the couple in the image had been a man and a woman.
"I was quite shocked to be honest. I created the piece and I didn't feel it was ever going to warrant a sign of censorship," he said.
"It's not illegal, it's a kiss. I feel the artwork has more to do with peace and reconciliation than sexuality. It's more what the kiss represents than the act."
'Sexual image'
The warning sign, which was erected at the entrance of the Images of Ulster exhibition, said: "This exhibition contains some artwork containing violent or sexual images".
John O'Doherty of the Rainbow Project, a group which supports LGBT rights, said he understood the image might shock some people, but art is "there to be shocking".
"Art is there to be challenging, to make us think about things differently and to present us with ideas we wouldn't come across in our everyday lives," he said.
"I don't see kissing as sexual and I think if it was (showing) a heterosexual couple kissing, it wouldn't be seen as a sexual image."
'Judgement'
In a statement, Omagh District Council said Strule Arts Centre had "a policy to inform audiences, whether of a performance, event or exhibition, which contains offensive language, sexual content, violence or political/religious references".
It added: "Feedback from customers of Strule Arts Centre was that patrons should be informed before attending so that they could make a judgement whether they wish to proceed.
"The sign at the entrance to the exhibition informs patrons that some artwork depicts violent or sexual images and it is left to the viewer to make his/her own decision.
"In relation to a similar sign being placed close to an image of a heterosexual act of kissing, the decision would be taken on a case-by-case basis in view of how the image is portrayed."
Mr O'Doherty said it was not right to start "putting restrictions on artists".
He said: "A piece of art like that is social commentary.
"It reflects the relationship between Peter and Martin, it reflects the differences here in Northern Ireland and the need we have for communities to come together."