Carál Ní Chuilín defends Londonderry City of Culture legacy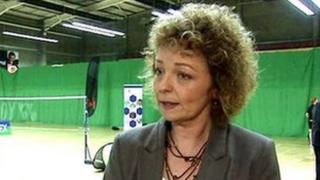 Culture Minister Carál Ní Chuilín has defended a failure to deliver on some legacy commitments after Derry's year as UK City of Culture.
The future of a number of key projects, such as the Music Promise and Portrait of A City, is uncertain because of a lack of funding.
Since the end of 2013 £3m has been provided for culture programmes.
Carál Ní Chuilín said she was "very disappointed" but would continue to deliver a legacy project for the city.
Speaking to BBC Radio Foyle on Wednesday, Ms Ní Chuilín said she was unhappy with the amount of funding made available.
"Yes it is a scaled down programme but we are continuing with it. The whole area has been starved of investment for decades but we did provide £2m in November and an additional £1m soon after. We're not done yet."
In November 2013 the minister outlined a three-year legacy plan for Derry when its UK City of Culture year came to an end.
A number of pledges were made by the minister and her department including continued support for community projects and the setting up of a north west DCAL base.
'unhappy'
That office opened this year and it is currently staffed by three full-time officials. However projects such as Music Promise and Portrait of A City were only funded by DCAL from January until March.
Ms Ní Chuilín said those groups should know the outcome of future funding soon.
"I am very disappointed I didn't get the money I was asking for but given the economic circumstances I think I've done fairly well, but am i happy? Absolutely not. My understanding is that a lot of projects will continue, albeit on a reduced scale."
Music Promise encourages young people to get involved in music and learn more about a career in the industry, with the hope of building a musical legacy.
Plans to set up a new delivery body, which would be a limited company, have also not been realised.
Derry made history after winning its bid to be the first ever UK City of Culture. In 2013 the city delivered a year-long cultural feast of music, dance, theatre and art.