Gaza conflict: Martina Anderson claims MEP group 'refused entry'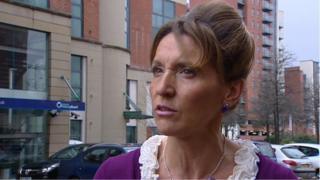 Thirteen European Parliament members have been refused entry to Gaza, according to Sinn Féin MEP Martina Anderson, who led the delegation.
Ms Anderson, an MEP for Northern Ireland, said the Israeli authorities barred the international group from entering Gaza on Thursday.
She said they were told it was because their visit was not directly concerned with the provision of humanitarian aid.
The BBC has asked the Israeli authorities to respond to her claim.
'Horrific'
Speaking from Jerusalem, Ms Anderson said: "The Israeli government refused us, 13 MEPs from six countries, entry into Gaza on the grounds that our visit to the region is 'not directly concerned with the provision of humanitarian assistance'."
The Sinn Féin MEP described the humanitarian situation in Gaza as "horrific and harrowing" and said her delegation wanted to enter the region to "assess the situation on the ground first-hand".
"This would have enabled us to relay that information back to the European Parliament and push for greater provision of EU humanitarian aid to Gaza and an end to the blockade and occupation," she added.
The delegation had intended to visit groups that receive funding from the European Union.
She added that the decision to refuse them entry "beggars belief" and called on the Israeli authorities to overturn the decision.
Ms Anderson told BBC Radio Foyle her group intends to stay in Israel for four days, meeting elected Israeli and Palestinian representatives.