Dog attacks almost doubled in Londonderry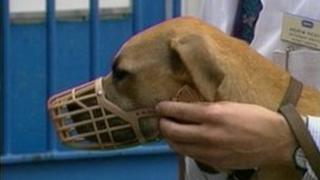 The number of reported dog attacks in Derry has almost doubled.
In the first six months of 2014 there were 53 attacks compared to just 30 last year.
Derry city council said that part of the increase was due to more people coming forward to report attacks.
A number of cases are currently being investigated and considered for prosecution.
Head of environmental health at the council, Karen Phillips, said the figures were down to greater public awareness.
"It's definitely an increase in reporting, What we've seen is people responding to us which I hope will lead to future reductions."
"Significant increase"
Reporting attacks is one element of the responsible dog ownership strategy which was set up by the council in November 2013.
On Wednesday councillors were given an update on its success so far.
There has been an increase in the number of dog licences applied for, a "massive increase" in the reporting of stray dogs, noise complaints and also in the number of fixed penalties being issued.
Principal environmental health officer and author of the report, Enda Cummings, said the number of prosecutions does not reflect the serious nature of the problem.
"It's a significant increase absolutely, we have more than one case pending at the moment and over the last couple of years there have been three or four successful prosecutions, but we haven't had any cases which haven't succeeded," he said.
In 2011 new legislation was introduced to tackle dog attacks.
The law includes compulsory micro chipping and made it an offence to allow a dog to attack and injure another person's dog.