Nathan Hastings: Londonderry dissident jailed for five years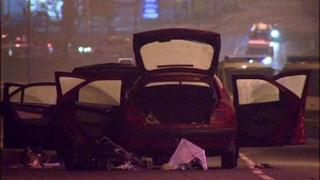 A 21-year-old man from Derry has been jailed for five years for possession of guns and explosives.
Nathan Hastings, from Stradowen Drive in Strathfoyle, was caught with the weapons during an undercover police operation in 2013.
The father-of-one pleaded guilty to all charges at Belfast Crown Court.
A lawyer described Hastings as a "footsoldier'' for dissident republicans.
"Serious"
Belfast Crown Court was told that at 09:30 BST on April 2013 police stopped a Citroen car that was found to be "untidy" but nothing terrorist-related was found.
The same Citroen, with Hastings driving, was stopped that evening on the Northland Road in Derry. A pipebomb, firearms and ammunition were found inside a bag in the car.
The court was told that all the weapons were test fired and found to be in working order.
A defence barrister told the court that Hastings "was not acting under duress or coercion,"
He added that the defendant "accepts that he did this voluntarily.''
"Trusted"
The court was told that police do not believe the guns and explosives were for immediate use but were in the process of being "transported across the border for safe keeping''.
The judge said that although Hastings' DNA had not been found on the weapons and explosives, it was clear, that "he had been trusted by other people of influence'' to transport the cache.
Describing the offences as "serious'' the judge added that "many innocent people, including police officers'' had suffered as a result of dissident republican pipe bomb devices.
The judge told Hastings he would spend five years in custody and a further five on supervised licence.