Sion Mills cricket club locked out by Strabane millionaire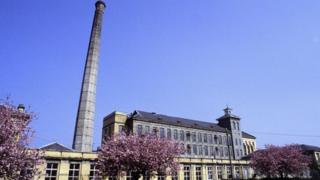 Sion Mills cricket club in Strabane, County Tyrone, has had to forfeit two home games after being locked out by the millionaire owner of the grounds.
It is understood the club is seeking a meeting with Margaret Loughrey in an effort to resolve the matter.
The team play on Sion Mills cricket ground, which was acquired by the Euromillions winner as part of the sale of Herdman's Mill.
Officials of the club had hoped the purchase would safeguard its future.
"Apprehension"
At the time of the purchase, the secretary of Sion Mills Cricket Club welcomed the news that the site, which spans 61 acres, had been bought by someone local.
"The ground has been taken over by a local person so it can only bode well for us as a club," said Simon Galloway.
Ten days ago the cricket club said it was contacted by Ms Loughrey and told that they would not be allowed to play on the grounds that coming Saturday.
It resulted in the team having to forfeit a home game for what is believed to be the first time in the club's 150-year history.
The club said at the time that they hoped the dispute would have a positive outcome.
"This incident has created a lot of apprehension in the village and throughout cricketing circles in the north west," officials said.
"The new owner has said she will meet with us at some point this week, we are hopeful that we will get a resolution to the immediate issue and the long-term plans."
On Saturday the club forfeited its second match, the final game of the season, because the gates were still locked.
Neither Sion Mills Cricket Club nor Ms Loughrey have commented on the latest dispute.
The club is the oldest and most successful cricket club in the north west of Northern Ireland. It was founded in 1864, under the patronage of the Herdman family, the local mill owners.
It has won the North West Senior League on 28 occasions and the Senior Cup 29 times. It is remembered internationally as the host of the famous victory by Ireland against the West Indies in 1969.
This year the club celebrated its 150th anniversary.