Six rescued from fishing boat off Donegal coast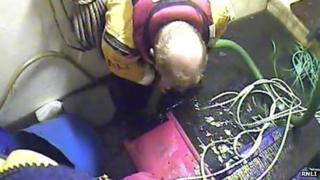 Six people have been rescued after their fishing boat got into trouble off the County Donegal coast.
The vessel got into difficulty after it began taking in water at about 03:30 BST near Dunree.
Two Lough Swilly lifeboats, a rescue helicopter from Sligo, and the all-weather boat attended the scene.
The lifeboat managed to get a pump on board that allowed the crew to get rid of the water.
Joe Joyce, from Lough Swilly lifeboat, said their quick actions saved the boat.
"They were all in their survival suits, had the liferaft ready to deploy and they were wearing the lifejackets in case they had to leave the boat quickly," he said.
"I'd say if we had not been there the boat might have gone down. "
No-one was injured in the incident.