Eglinton man Cumali Arslan got son to issue threat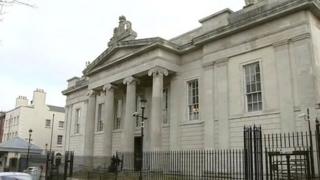 A man has been convicted of persuading his seven-year-old son to verbally threaten another man.
Cumali Arslan, 31, of Madison Avenue in Eglinton, got his son to shout across a street in the village at the man that he would be burnt out of his home.
The defendant committed the offence on 23 March. Four days later he verbally threatened the same man inside a court.
A defence barrister said Arslan was not in court to contest the charges because he had returned to Turkey.
District Judge Barney McElholm said there was clear evidence that Arslan spoke to his son and told him what to shout at the injured party.
Following the conviction, a warrant was issued for Arslan's arrest.