Man in court over attempted hijacking of woman taxi driver's car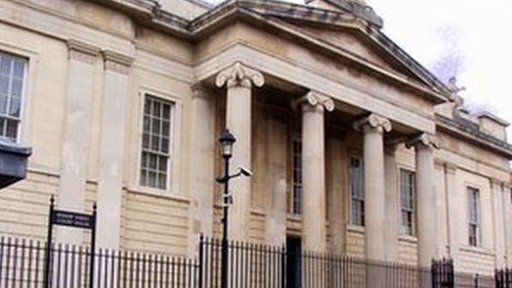 A man has appeared in court in connection with an attempted hijacking of a female taxi driver's car in Londonderry.
John Paul Moore, 18, from Carlton Court, Ballymagroarty, is also charged with being armed with a dinner knife.
The court was told he allegedly wrapped his arm around the throat of taxi driver Linda Brady during the incident in Ballymagroarty on 10 September.
An application for bail was refused.
Opposing bail a police officer told the judge at Londonderry Magistrates' Court that the accused was a high priority offender who had accumulated 18 previous convictions in the last 12 months.
The officer said Mr Moore had only been released from custody three weeks before the attempted hijacking of the taxi.
She said he was arrested after he identified himself on CCTV as being the person who got into the taxi outside Rockmills in the Strand Road area of the city.
He told the police he remembered little about the alleged incident because he was high on a combination of alcohol and a legal high.
The police witness said after boarding the taxi the defendant was driven to his father's home in Abercorn Road in the hope of obtaining money to pay his fare.
However his father was not at home and the defendant instructed Ms Brady to drive him to his Ballymagroarty home.
The officer said the number used to book the taxi was traced to a mobile phone and its owner confirmed he had ordered the taxi for the defendant.
Applying for bail, a defence solicitor said the defendant did not know the taxi driver.
However the judge said: "Does he not read or listen to the news. This lady was all over the newspapers and television news. This was an absolutely appalling incident."
Mr Moore was remanded in custody until 9 October.