North West Independent Hospital in Ballykelly: Talks urged over jobs threat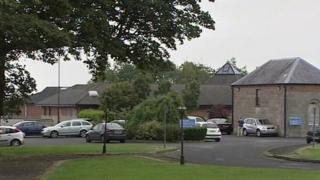 A DUP MLA has called for an urgent meeting with the health minister over the threat of up to 60 job losses at a private hospital in County Londonderry.
The North West Independent Hospital in Ballykelly has confirmed it has started redundancy talks, and up to a third of its 180 staff could be affected.
In July, the Health and Social Care Board told health trusts to "pause" referrals to private clinics.
The clinic said the jobs' threat was linked to the cut in NHS referrals.
The East Londonderry DUP MLA George Robinson said he was "very much alarmed at anything up to 60 jobs being lost".
He said: "Quite worryingly, there are also some rumours, and I must stress it is rumours, that... there may be a reduction in those hours of those existing staff, but it is a deep concern."
Chair of Stormont's health committee, Sinn Féin's Maeve McLaughlin, said: "None of us are naive enough to say that there is no need for the private sector.
"Of course, there's an expertise that they can bring to this agenda, there's no doubt about that.
"But, equally, if that money was brought in, how - again in terms of the recruitment issue alone or the capacity issue - can we recruit the type of doctors, nurses, consultants in-house to do the work, to ease the waiting lists and to look at the whole issue around enforcement of targets?"
'Significantly reduce'
In a statement on Monday, the clinic said its operations were carried out at a price that "compared favourably" to the cost of similar procedures undertaken within the NHS.
It added that because that referral work had now been terminated it had no option but to "significantly reduce" staff numbers.
It is not yet known which areas may be cut back, but the clinic said its private health care, domiciliary care and recruitment divisions would be unaffected.
It follows a warning last month by 3fivetwo, Northern Ireland's largest private medical group that it may have to lay off 50 staff.
All the health trusts refer routine work, such as orthopaedic surgery, to private firms as part of what is called the "waiting list initiative".
It is feared that as a result of the board's move, waiting times could rise for procedures such as hip and knee replacements.