Ballymagroarty: 'Barbaric' Londonderry attack condemned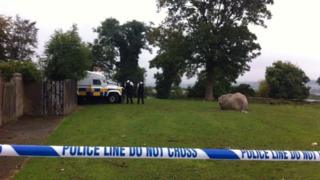 There has been a four-fold increase in paramilitary-style shootings in the north west this year, according to a senior police officer.
In the latest incident, a 17-year-old was shot in both legs in Ballymagroarty in Londonderry on Monday.
Police confirmed that one line of inquiry is that it was a so-called "shooting by appointment".
Ch Supt Stephen Cargin said it was the 25th paramilitary-style incident this year in the Derry area.
"These people wreak out their injustice behind a mask and with a gun in their hand," he said.
"They are trying to terrorise communities. They are going into family homes in front of children, shooting members of that family or giving them a really bad beating.
"This is just not the type of behaviour we would expect in a civil society."
Monday night's attack took place shortly before 23:15 BST at a green area behind flats in O'Riada Court.
The victim was taken to hospital by a family member, but his injuries were not believed to be life-threatening.
Mr Cargin said there had been 11 dissident republican shootings, and two gun attacks linked to loyalists in the past 12 months in the area.
There have also 12 other incidents involving pipe bomb attacks or serious assaults.
He described the attacks as "very concerning".
"A young man's life has been changed forever," he said. "The injuries, both the physical injuries and psychological damage that he experienced last night will change his life forever, as will (those of) a significant number of other people - mainly in this city - who have experienced these paramilitary attacks over the last year.
Dark clothes
"The city has been a beacon of hope, not just on this island but way beyond, and these are people who are trying to take us back to the past. We've seen four times the increase in shooting attacks since last year."
The police said two men wearing dark clothes were reportedly involved in the latest incident.
Sinn Féin councillor Eric McGinley called for such attacks to stop.
"There is no place for guns on the streets of our city," he said.
SDLP councillor John Boyle condemned the shooting as "barbaric".
"The gun-toting thugs responsible for this shooting need to realise there is absolutely no justification for this type of attack, and that there is no support in the community for it," he said.