Western health trust: Talks over £12m budget deficit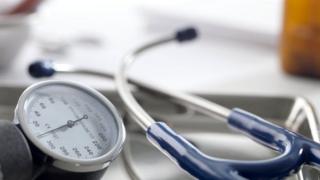 The Western Health Trust has held meetings with senior managers over a £12m hole in its budget.
The trust confirmed it faces "significant financial challenges" and warned the deficit could more than double to almost £30m.
Like the other health trusts, western trust managers were told they could only overspend their staffing budget if a patient's life was in danger.
The health minister has previously said his department faces a £140m shortfall.
On Monday, western trust managers were reminded that any departmental overspends had to be cleared at the most senior level.
For the first four months of this year, the western trust is reporting a financial deficit of £12.9m and by the end of the year it predicts that deficit will be £29.8m
BBC News NI health correspondent Marie-Louise Connolly said the "figures have consequences".
"Managers were told they had no authority to overspend in all instances. They had to refer up a level to get any overspend signed off and that includes covering maternity leave or filling in behind sick leave," she said.
"Staff were told that extra staff should only be brought in if a patient's life is in danger."
She said one manager told her that pressure was "continually being piled on", while another manager said they were "lunging from one day to another" without any "long-term strategic planning".
Health Minister Edwin Poots told BBC Radio Foyle that stretching the budget was having a "massive" effect on the western trust.
'Significant pressures'
"The problem is, the trust are very well aware that they can't come back to me looking for money because I simply won't be able to find that," he said.
He said due to the shortfall in the budget the pressures on the health service money was "more significant now than it has ever been over the course of the last three years that I have served as minister".
Trevor Lucy of the health union, Unison, said that the cuts were bound to affect patients.
"We have suffered cutbacks now for almost a decade, things have been pared away till there's not much left," he said.
"So there's shortages of staff on the ground now. They will be noticed very quickly and definitely will affect patient care."
In a statement, a western trust spokesperson said it was facing a "very challenging financial environment".
It also said the trust must "look at ways to make most efficient use of resources for the most effective patient care".
In January, the western trust predicted an £8m deficit for that financial year, despite an annual budget of more than £550m.
Meanwhile, the health minister has told the assembly that a 24-hour emergency service for people with heart trouble has been introduced at Altnagelvin Hospital.
There had been fears the round-the-clock Cathlab unit would not go ahead because of the financial crisis in the health service.