Derry city centre attacker Aaron Greenwood avoids prison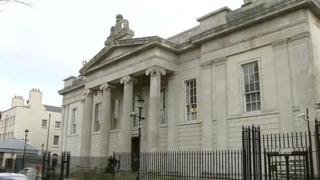 A man has been given a suspended jail sentence for assaulting a man who died hours after the single-punch attack.
A district judge said there was no evidence to prove Terence McCartney's death was linked to the assault in Londonderry city centre.
He said if there had been, the defendant, 33-year-old Aaron Greenwood, would have faced a more serious charge.
Mr McCartney, 42, was found dead in his John Street flat on the evening of 5 February 2013.
Earlier in the day, he suffered grazes to his face when he fell to the ground after being punched from behind by Greenwood in Guildhall Square.
On Friday, Judge Barney McElholm advised members of Mr McCartney's family that CCTV footage of the assault was about to be played and advised anybody who wished to leave the courtroom to do so now.
The judge described the attack as "cowardly, disgraceful and unprovoked".
Greenwood, from Butlers Wharf in the city, pleaded guilty to the common assault of Mr McCartney.
His solicitor described the CCTV footage as "poignant" and said Greenwood accepted that Mr McCartney had done nothing to provoke the attack.
The solicitor said Greenwood continued to struggle with the fact that his victim died hours after the assault.
Greenwood was sentenced to four months in prison suspended for three years.