Derry and Strabane 'super council': UUP councillor fails to win support on name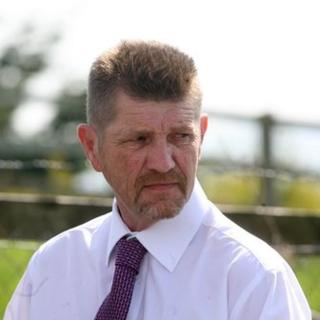 An Ulster Unionist councillor has failed to get support for his suggestion for what the new Derry and Strabane super council should be called.
It has temporarily been called Derry City and Strabane District council, although that is not its legal name.
Its new name will be decided by councillors.
Derek Hussey said his suggestion of Foyle District Council would be all "inclusive" and "apolitical".
"What I was seeking to do was to find that common bond and I envisaged the Foyle river system as being that common bond, I mean the Derg, the Mourne, the Finn, those are all tributaries of the Foyle and therefore part of that rivers system - something that was linking us all together," he said.
"Undoubtedly there would be issues for the various constituent parts of the area to deal with and it would be a matter for each of those to deal with their relevant things."
Mr Hussey's party colleague, Mary Hamilton did not second his motion.
'Passionate'
"I would have liked in his motion for him to have mentioned the name of Londonderry," she said.
"I know possibly it wouldn't have went through, it would have been voted out, but I am very passionate about our city as the second largest city in Northern Ireland and Londonderry is very important to us and I would have liked him to have included that."
Sinn Féin councillor Paul Fleming said the council area names should feature in the title.
"The name of the new council should be Derry City and Strabane District Council," he said.
'Reflect everybody'
"Other people might have other suggestions, but in terms of the two existing, in terms of Derry and Strabane, and the historical connotations and the identity that they have and the wider hinterland, it's trying to incorporate all of that into the name of the new council."
SDLP councillor John Boyle said the new name "must in some sense reflect everybody".
"From an SDLP perspective, a simple name like Foyle wouldn't do that, but there are other more important aspects to it and some elements of it that maybe people haven't quite got a grasp of yet and that is possibly what happened in this instance," he said.
DUP councillor Gary Middleton said he wanted Londonderry to feature in the new council name.
"I think no matter what name, at the moment it's going to be quite unwieldy, because we are now taking in new areas, so I think it's just getting a name that is reflective of the new council," he said.
"For us, Londonderry City and Strabane District Council would do that, but again we are not the majority in the council so whatever is decided we will have to respect that."
The new local authority is due to be up and running next April.
In July, councillors agreed to spend £30,000 on rebranding Derry and Strabane District super council.
A consultant is being employed to decide what signs and logos will be used.
The current crest for Derry City Council has a skeleton.
Strabane District Council's crest has a boat.