Rodney Joseph Campbell: Limavady abuser abandons appeal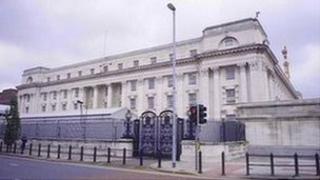 A County Londonderry man who subjected a homeless teenage girl to years of sexual and violent abuse has abandoned an appeal against his 12-year sentence.
Rodney Joseph Campbell dipped his victim's head in cooking oil and stubbed a cigarette out on her body amid a sustained campaign of exploitation.
Campbell, 44, is formerly of Sperrin Road, Limavady.
He had been due to challenge his sentence in Belfast.
That appeal has now been withdrawn.
Earlier this year, a judge said Campbell had treated the girl as his own personal plaything and had subjected her to "gratuitous violence of the very worst type".
Campbell, formerly of Sperrin Road in Limavady, was told his offences were "depraved and humiliating".
He began abusing her in 2006, when she was a 15-year-old in care, the court heard. For more than three years she was said to have been completely under his control and living in terror.
She was beaten, throttled and had an earring ripped out as the attacks continued. The abuse only ended in 2009 following an attempt to take her own life.
Campbell's identity had remained protected until his victim waived her right to anonymity.
He was jailed for 12 years and placed on the sex offenders register for life.