House and murals attacked in Fountain area of Derry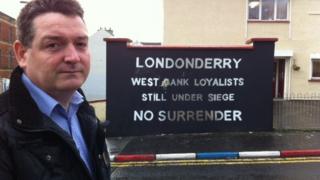 A house and two murals were attacked in the Fountain area of Londonderry at the weekend.
A window of a house was broken in Kennedy Street and a petrol bomb was thrown at the mural on Saturday night causing minor damage.
DUP councillor David Ramsay said incidents were ongoing in the area every weekend.
"There was a petrol bomb fired at the mural, which actually is a tourist attraction," he said.
"Again it sort of confirms what the people in the Fountain are saying about being under siege and then a house was attacked as well and had a window broken.
"There is an element within the city who are not happy with the people living there, the Protestant people who live there and the Fountain has been there for ever and it is simply not acceptable and must be condemned."
Police said two incidents of damage in the Fountain area over the weekend had been reported on Monday morning.
One was of damage to a window at Kennedy Street, and the other related to damage to two murals in the area.
Slogans were daubed on one, and the other sustained scorch damage.