Dunfield Terrace: Derry housing scheme gets go ahead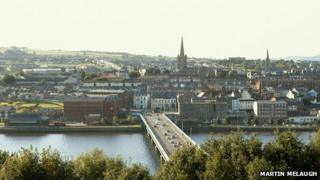 A controversial housing scheme in Londonderry has been given permission to build 20 new homes.
Plans for the development of Dunfield Terrace in the Waterside area of the city have faced opposition by local residents for decades.
They argued the site provided one of the best vantage points of the city and a visitor attraction for tourists.
Permission was granted during a meeting of Derry City Council on Tuesday.