Derry man sentenced to 15 months for racist attack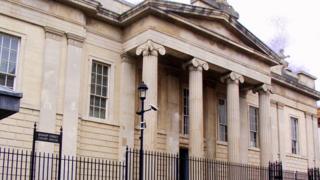 A father of two who racially abused a man before punching him has been jailed for fifteen months at Londonderry Magistrates' Court.
Thomas Deane, 24, from Argyle Street, Derry, admitted attacking the victim in the Rosemount area earlier this year.
The court heard that the man received 22 stitches for a mouth wound after the assault outside his home.
The judge said the racist attack was outrageous.
He added that the sentence reflected the court and community's abhorrence of the incident.
The court heard that after Deane was arrested, he shouted at a police officer: "I am going to eat your heart and your sister's heart."
The judge said that Deane had been given numerous chances to reform himself by the courts in the past but had rejected those opportunities.
He added that given the defendant's propensity for violence, he wanted the court service to express concern to social services about future contact between Deane and his two children.