Derry dealers: Pair jailed for 'buying drugs online to make profit'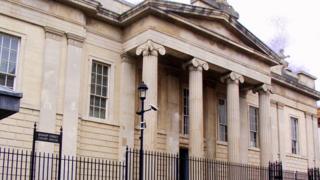 Two men have been jailed at Londonderry Crown Court after they admitted buying drugs online and selling them to customers.
Bernard Shields, 27, from Miller Street, Derry, was jailed for 14 months.
Aaron Patrick McCusker, 23, from St Eithne's Park in the city, was given a 12-month prison sentence.
They had pleaded guilty to 10 drugs charges linked to importing, possessing and supplying methamphetamine.
The court was told that the charges dated back to September 2012, after police searched Shields' former address at a property on Glen Road in the city.
'Deal bags'
Officers had searched Shields' car and found three bags of white powder in a hold-all, and another bag hidden inside a boxing glove.
The court heard that when Shields was arrested, he told the police that he and a number of friends had joined together to buy the drug over the internet, and that he intended to sell the drugs for profit.
McCusker's flat was then searched by police, who found four bags of white powder as well as 31 so-called "deal bags" containing drugs and a set of digital weighing scales.
Mobile phones belonging to the pair were also examined and found to contain incriminating drugs-related texts.
'Plague'
The judge said Shields was the buyer who sold the drugs to McCusker, who then sold them on to friends and customers.
"It is clear they were out to make money for themselves," he said.
"The misuse of drugs in this city is a plague and ruins the lives of so many. People like you perpetuate this by making money by helping to ruin people's lives."
The judge added that the men were entitled to full credit for their early guilty pleas, and said he took into consideration the fact that the case had been "hanging over their heads for two years".
The pair will serve half of their sentences in custody without remission and half on licence.
As well as jailing both men, the judge ordered the destruction of the drugs and any related items found by the police.