Unemployment: Foyle constituency has highest rate in UK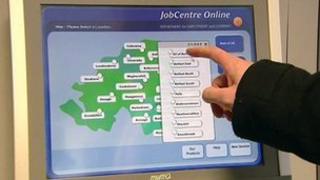 Politicians from two political parties in Londonderry have said there has been an united approach in tackling unemployment in the city.
They were responding to recent figures that showed Foyle now has the highest rate of unemployment of all the UK's 650 parliamentary constituencies.
The unemployment rate in Foyle is 13.2%, according to the Commons Library research paper for October.
In 2013 the Foyle constituency was ranked fourth on the league table.
'Initiatives'
The Foyle SDLP MP Mark Durkan and Sinn Féin MLA for Foyle Raymond McCartney have said that the city is collective in its approach.
SDLP MP Mark Durkan told BBC Radio Foyle that everyone has to make an effort.
"It is a matter of pursuing real strategies and real initiatives."
Foyle also has the highest youth unemployment, with more than 1,500 young people out of work.
The constituency was ranked third on that list in 2013.
'Soul destroying'
Michael Deery has been unemployed since April. He has considered moving out of Derry to find work.
"All you do is check your emails in the morning to see if any employers have replied," he said.
"Because there are very few jobs around, I have to look further afield.
"It is soul-destroying. The politicians need to focus on the city."