City of Derry airport: Ryanair flight to Birmingham axed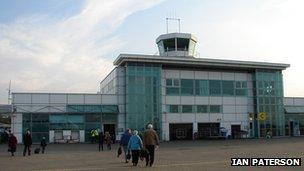 The low cost airline, Ryanair, is axing its Londonderry to Birmingham route according to City of Derry airport.
They said the decision to end the service was taken after the airline reviewed its winter network.
City of Derry airport said it was "disappointing" news for the airport and passengers. The service will officially end on 20 November.
In a statement, Ryanair said it "does not comment upon or engage in rumour or speculation".
City of Derry Airport said there had been extensive discussions with the airline regarding the summer schedule for 2015.
They said that it was during these meetings that it became clear that the airline would not be operating the Birmingham route next year.
"We understand that the decision by Ryanair to cease services on this route is part of a wider review by the airline of their winter network where they have reduced services and frequencies on over 30 other routes.
"This is clearly disappointing news for the airport and for those passengers that are booked onto services that will now not operate and who regularly use the route."
The airport has also taken the opportunity to welcome its new Ryanair route to Glasgow, which started earlier this month.
Ryanair had been operating a Derry to Glasgow Prestwick service but this has now been transferred to Glasgow International.