Danny Kennedy 'bungled' Derry rail project cost - Trevor Clarke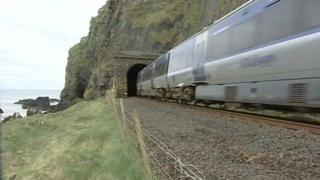 The chair of the regional development committee has criticised the department's minister about the cost of a rail project in County Londonderry.
On Monday, Danny Kennedy told the assembly that Translink's costing for the second phase of the Coleraine to Derry rail project had risen from £20m to an estimated £40m.
Mr Kennedy said Translink had used figures that were "not based on fact".
The committee chair Trevor Clarke said Mr Kennedy had "bungled" the project.
Speaking on BBC Radio Foyle on Tuesday, Mr Clarke said Mr Kennedy and his department had "mishandled this (project) to the tune of £20m".
No 'definitive timescale'
"Everything was thrown at this to get it on track, it was on budget, but now because his department has bungled this, it does look like it's in jeopardy," he said.
"The minister ultimately has responsibility for the project and Translink, and the minister has to be asked how he trusted Translink to get it so wrong.
"Translink have been holding £55m in cash reserves so some of that money should be used, and someone ultimately has to be held responsible for making such a miscalculation."
Last year, it was announced that the second stage of the upgrade was to be delayed for a further year because Translink was having difficulty finding the right supplier for signalling equipment.
The work will now have to go out for retendering.
The minister said the project would face further delays, but told BBC Radio Foyle that he was "not able to confirm a definitive timescale".
"We will work very hard to ensure this project happens," Mr Kennedy said.
"We hope we can limit any delay to the minimum period of time and bring this scheme forward as quickly as we can."
'Incompetence'
Sinn Féin's representative on the committee, Cathal Ó hOisín, said the minister had "serious questions" to answer about when the upgrade would proceed.
"This is a major failure on behalf of the department and Translink and we need to know who is accountable for the massive under estimation of the cost of the upgrade," he said.
"The incompetence and failure to procure proper signalling equipment and now the near-doubling of the cost of the project needs to be addressed and people held to account.
"The upgrade of the railway line is an important infrastructural project. It is part of the programme for government, so the minister must now clearly set out a timetable for the completion of the line."