Limavady care assistant Joanne Doherty 'wilfully neglected' patient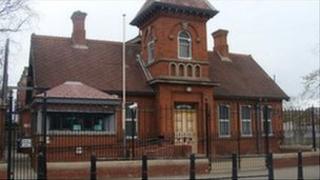 A woman who worked in a care home in Limavady, County Londonderry, has admitted that she wilfully neglected a patient, a court has heard.
Joanne Doherty, of Anderson Crescent in the town, appeared at Limavady Magistrates' Court on Wednesday.
The 43-year-old care worker was charged with neglecting an 86-year-old woman in Rush Hall care home in November 2013.
The court heard the neglect emerged when two other care workers treated her.
Eileen Bruce complained of pains in her side, and said she had fallen while under Doherty's care on 24 November.
A doctor examined the elderly woman and found she had a fractured shoulder. The court heard that Doherty was asked by other staff if Mrs Bruce had fallen, but denied it.
'Conspiracy of silence'
However, another care worker told staff that they had heard the patient had fallen in the defendant's presence.
Doherty was suspended from duty on 2 December for failing to report an incident.
The court heard that when the defendant was interviewed, she had broken regulations and decided to move Mrs Bruce on her own, and that they had both fallen.
She claimed the patient had fallen on top of her and that she did not think she had been hurt,
The prosecution said "a conspiracy of silence had been decided upon".
However, Doherty said if she had realised the patient's shoulder had been broken, she would have reported it.
'Unambiguous apology'
The court was told that the patient died on 14 March 2014.
A solicitor for the Bruce family said they "did not want to tar everyone with the same brush", but were concerned with the breach of trust in their mother's case.
A defence barrister said Doherty wished to offer an "unambiguous apology" to the Bruce family.
He described the defendant as a "model citizen" before the offence and said she had not set out to injure anyone, but had engaged in "an almost childlike approach to covering (it) up".
Doherty is expected to be sentenced on 12 November.