Derry man had '20,000 drug-related texts on phone'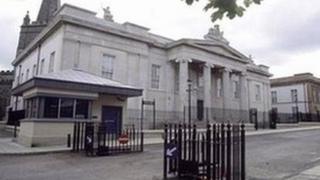 A court has heard that a Londonderry man who admitted 10 drugs charges, had more than 20,000 drug-related text messages on his mobile phone when he was arrested by police last year.
Christopher Gallagher, 29, has pleaded guilty to one charge of possessing herbal cannabis.
He also pleaded guilty to nine charges of offering to supply the drug.
His Foyle Road home was searched by police on 3 December last year.
A prosecution barrister told Derry crown court that 14.5 grams of the drug together with a grinder were found in Gallagher's home.
Gallagher, a father-of-two, also had his mobile phone seized. It was forensically analysed and the 20,000 plus text messages were either sent to or received from 63 mobile phone numbers.
The court heard one message from Gallagher stated, "super-skunk here if you are looking".
Another message from Gallagher is alleged to have said "potent stuff here".
A prosecution barrister said that due to the volume of drugs-related text messages it was clear Gallagher played a major role in supplying drugs to users and retailers.
A defence barrister said Gallagher had been drugs-free from last September. He had completed a drugs addiction course and recent drugs tests on him, had come back negative.
He said Gallagher's parents were in court and his father wanted to thank the police for detecting his son's offending before it got worse.
The judge said he would sentence Gallagher on Thursday and released him on continuing bail until then.