Ulster Bank: Accounts manager Colum Lewis-Canning pleads guilty to fraud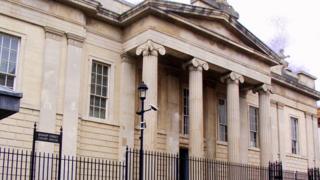 A former senior accounts manager for an Ulster Bank branch in Londonderry has pleaded guilty to stealing more than £100,000 from a client.
Colum Lewis-Canning, 55, from Moneyrannel Road, Limavady, admitted three charges of fraud in court.
He was to go on trial charged with five counts of taking money from accounts between January 2006 and February 2009.
On Wednesday, the defence told the court that Lewis-Canning wanted to be re-arraigned on three of the charges.
Lewis-Canning worked at the former Ulster Bank on Strand Road in the city.
'Unusual aspect'
On his re-arraignment, he pleaded guilty to fraud by abuse of his position by transferring £12,500 from the client's account without the client's permission and then transferred the money into an account under the name of SmartInvest Limited.
He also admitted transferring an additional £65,500 from the same client's account, again without permission, and moving it into another account in the name of SmartInvest Limited.
Lewis-Canning further pleaded guilty to taking £22,500 from the same client's account and lodging the money with a firm of stock-brokers, without the client's knowledge.
The prosecution told the court that an "unusual aspect of the case" was that the defendant had already paid back more than £45,000 to the client.
Releasing Lewing-Canning on continuing bail, the judge told him: "Make sure you co-operate with the probation service because it is in your interests to do so."
He will be sentenced on 18 December.