Limavady care worker 'should have gone to prison' for neglect, says family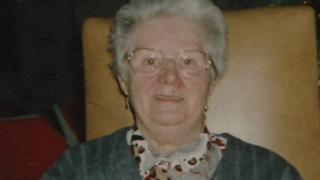 The family of an 86-year-old woman has said that the care worker who neglected her should have been sent to prison.
Joanne Doherty, of Anderson Crescent in Limavady, County Londonderry, was given a four month suspended sentence on Wednesday after she admitted neglecting Eileen Bruce at Rush Hall nursing home.
Doherty, 43, had tried to move Mrs Bruce on her own but they both fell.
Mrs Bruce suffered a fractured shoulder. Her injuries were discovered the next day.
Doherty did not alert doctors about the fall and initially denied that it had happened.
'Heart and soul'
Mrs Bruce died four months later.
The pensioner's son-in-law, Joe Carr, said the family did not feel that they had received justice and that Doherty should have been sent to prison.
He said that two people were supposed to work with his mother-in-law at all times.
"She was a person who was in charge of my mother-in-law.
"She knew in her heart and soul she shouldn't be working with her on her own because of her mobility problems. She chose to do that.
"We put Eileen in there in good faith, we chose that home," he said. "We all feel we let Eileen down.
"To me, when you do wrong you have to get punished.
"Because my mother-in-law had an element of dementia, we actually doubted what she was saying when she was telling the truth.
"Because this lady (Doherty) was so convincing and denied everything, we were at a point then - who is telling the truth?"
'Serious failure'
He added that what had happened was "soul-destroying" for the family.
"To sit and watch my wife, my sister-in-law, my brother-in-law, the way it is tearing them apart is unreal," he said.
"This woman has walked way with nothing, that's just the way I see it. It's nothing. A suspended sentence, what does it mean? Nothing."
A spokesperson for Rush Hall nursing home said: "There was a serious failure to follow the policies and procedures that are in place in the home.
"We have previously met with the family of Mrs Bruce and expressed our sincere apologies, which we repeat publicly.
"The Western Trust and RQIA (Regulation and Quality Improvement Authority) are satisfied that we took all appropriate measures and there have been no further concerns raised over subsequent months.
"It is deeply disappointing and upsetting whenever we come across the exceptions who let down their colleagues and the people in their care."
Update 25 November: The description of Joanne Doherty has been corrected to care worker.