Kill threat man Patrick MacCarthy 'digs for gold in Derry home'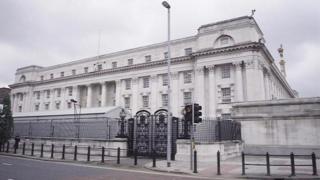 A man convicted of threatening to kill a grandfather spends his time mining for gold at his home in Londonderry city centre, a court has been told.
Patrick MacCarthy, from Pump Street, was jailed last week for making the threat in a Derry cafe.
He was given an eight-month term but applied for bail ahead of an appeal.
The court heard he had "difficulties" and issues with alcohol. His defence lawyer argued his daily excavation work amounted to mitigating circumstances.
She told the judge her client should be released ahead of his appeal, which is not due to be heard until January.
MacCarthy was alleged to have issued a threat to kill at a cafe in Bishop Street on 19 March.
A prosecution barrister expressed concern that MacCarthy was applying to be released to live in Derry city centre.
He told the High Court that the victim had previously sponsored MacCarthy's attempts to deal with alcohol issues.
"The injured party is a grandfather and police say he's frightened of the appellant and is unable to walk his dog in and around the town or take his grandchildren there," the barrister said.
The bail application was adjourned for efforts to be made to find a potential alternative address outside the city centre.