School bus evacuated after fire in Letterkenny, County Donegal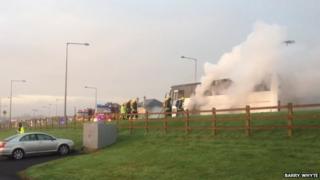 Up to 40 children have been brought to safety after their school bus went on fire in Letterkenny, County Donegal.
It happened at about 08:30 local time on the N56 Letterkenny to Creeslough Road at Mountain Top.
The schoolchildren attend nearby secondary and primary schools and there were no reports of any injuries.
The acting chief fire officer for Donegal, Sean Campbell, has praised the quick actions of the driver.
'Smoke'
"The driver must have noticed smoke coming from the panels underneath the floor of bus.
"He had the good will to pull the bus over and managed to get the 35 to 40 children out," he said.
"When our boys landed there was a good bit of smoke and they got the fire out but it was the quick actions of the driver, when you have 35 children on a bus and you know what can happen."
'Panic'
Francie Marley who owns the bus said it was a lucky escape.
"It was good quick thinking from the driver, the roads were busy as well so he had to make sure they were all safe once they were out that the children didn't panic.
"It could have been much worse, people could have been trapped, you can replace a bus but not a child or a driver.
"We don't know yet what caused the fire but it will be investigated."