Bracken Park: Man in his 20s shot in Londonderry attack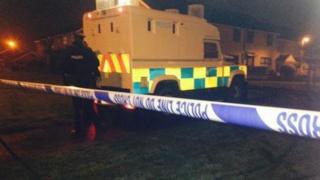 A man has been taken to hospital after he was shot in the leg in Derry.
He was attacked by two men in Bracken Park in Galliagh on Thursday at about 20:30 GMT.
The victim, who is in his 20s, was shot in his right leg. His injuries are not believed to be life-threatening.
SDLP councillor for the area, Brian Tierney, said it was an "horrific attack".
'Shot three times'
"From speaking to young people, two masked men came out from behind this alleyway and demanded that he get to the ground.
"When he got to the ground they shot him three times and then made off.
"This young man was made walk over to the local shop, 500 metres away, before he could ask for assistance," he said
"This attack is totally unacceptable, it's not welcome in this community and the people who carried this out do not represent this community."
'Scary'
Speaking to BBC Radio Foyle, one woman living in the area said she was considering leaving her home.
"I'm afraid. We're seriously debating moving because this is the worst I've seen with shootings and joy riders, it is scary.
"I don't sleep at night and I keep my windows open because I'm afraid of people breaking into the house," she said.
"That was somebody's son and I wouldn't want it to happen to one of mine."
Sinn Féin councillor Elisha McCallion said people in Derry had made it "very clear" that the attack was unwanted.
"The people of the area do not want these actions taking place on our streets and those behind them need to stop," she said.