Derry priest Fr John Irwin sentenced for stealing parish money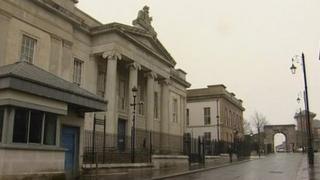 A retired priest in County Londonderry has been given a conditional discharge for two years for stealing almost £2,000 over a three year period.
Fr John Irwin, 73, from Garvagh Road in Dungiven, pleaded guilty to the offences six months ago.
Between 1 May 2011 and 30 October 2012 he stole £1,440 of collection money from St Patrick's parochial house in Pennyburn, Derry.
He also pleaded guilty to stealing £300 from the Derry Diocesan Society fund.
That money was taken between 1 December 2009 and 30 May 2011.
A defence solicitor handed in to District Judge Barney McElholm two letters which he said confirmed that Irwin had not only repaid the amount in full, but also provided additional compensation.
'Mistake'
Mr McElholm said it was a breach of trust case and it was a serious matter.
"It appears this defendant got himself into some financial difficulties and he unfortunately stole money from church funds in order to get himself out of that," Mr McElholm said.
"Any breach of trust is a very serious matter but in this case he entered an early plea of guilty and fully co-operated with the police. This is a man who has dedicated his life to helping and ministering to others.
"He has made a mistake."