Danny Boyle and Ray Winstone speak out against NI film cuts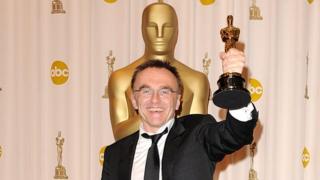 The Oscar-winning director Danny Boyle and Hollywood actor Ray Winstone have added their support to a campaign against arts cuts in Londonderry.
Some of Northern Ireland's best known film organisations are facing cuts in funding of up to 50%, as Stormont ministers try to balance their budgets.
The Foyle Film Festival in Derry is just one of the organisations affected.
Both stars spoke out in support of the festival, with Boyle describing Derry as "shining host" for world cinema.
'Important role'
The English director, who is of Irish descent, is best known for films such the Oscar-winning Slumdog Millionaire, 28 Days Later and The Beach, with Leonardo DiCaprio.
He also masterminded the opening ceremony of London 2012 Olympic Games.
However, the 1996 film Trainspotting propelled Boyle to international acclaim.
In a statement, Boyle said: "Trainspotting had its first ever public screening at the Foyle Film Festival in Derry-Londonderry 18 years ago and throughout those years film has played an important role in the transformation of the city.
"Once the subject of heart-rending tragedies, Derry is now the shining host for cinema from around the world and for the promotion of local talent in the film industry."
Ray Winstone, who is famed for playing tough characters in films such as The Departed, Nil by Mouth and Cold Mountain, came to Derry to launch the Foyle Film Festival in 2012.
"I cannot over-emphasise the importance of festivals in general, and Foyle Film Festival in particular, in providing a platform for independent films dealing with subjects outside of mainstream cinema," he said.
'Dreams and ambitions'
His Derry visit marked the premiere of his film Ashes and the Emmy-award winning actor took part in a post-screening question and answer session.
"For someone who has come from a working-class background, it was very rewarding to be given the opportunity to hopefully inspire others in the same position to strive to achieve their dreams and ambitions," Winstone added.
The latest intervention follows a statement from Hollywood film director Paul Greengrass at the weekend, who criticised Stormont cuts to creative learning education programmes that help young people get into the film industry.
Northern Ireland's power-sharing government is facing very tough financial choices on public spending after the block grant it receives from Westminster was reduced by 1.6%, a cut of about £160m.
The Department of Culture, Art and Leisure (DCAL), which helps to fund film organisations, is facing a 10% cut to its £100m budget.