Gary Donnelly: Londonderry councillor wins jail sentence appeal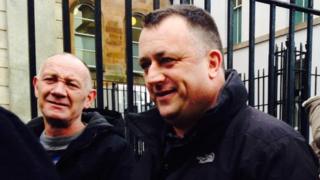 Independent councillor and dissident republican Gary Donnelly has won his appeal against a jail sentence at Londonderry Magistrates' Court.
Mr Donnelly, and two other men from Derry, had jail sentences imposed on them in November when they were convicted of causing criminal damage to the city's historic walls.
They were found guilty of daubing anti-internment slogans on them.
£2600 was made available to the court to pay for the damage.
Judge Philip Babington ordered that the three defendants should pay half of the compensation money to the Northern Ireland Environment Agency and half to the Foyle Search and Rescue organisation.
He then replaced the original six month jail sentence imposed on Gary Donnelly, 43, from Iniscairn Road, William Brogan, 51, from Carnhill, and Terry Porter, 56, from Racecourse Road, with a conditional discharge for twelve months.
There was clapping and cheering in the public gallery after the judge gave his ruling.
Among those in the public gallery were four TD's and elected councillors from both sides of the border.