Snoop Dogg a 'misogynist wretch' says Londonderry judge McElholm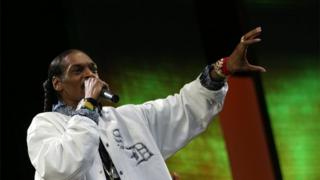 A Derry judge has described the US rapper, Snoop Dogg, as a "misogynist wretch" during a court case.
Barney McElholm made the comment during the case of a woman who punched a police officer after she attended a Snoop Dogg gig in the city.
Judge McElholm said: "Despite the bad behaviour espoused by his lyrics there was no excuse for this."
Thousands of people attended the rapper's DJ set at Ebrington Square last year.
Simone Campbell, from Edenmore Street, Derry, had consumed eight glasses of wine and a quantity of rum before she punched a police officer on the right ear, resisted arrest and committed disorderly behaviour.
It was one of three public order offences the 18-year-old committed while she walked along the Limavady Road on 23 October 2014.
'Misogynist wretch'
Imposing a 12-month probation order, Judge McElholm said: "Why any woman would want to go to a concert to listen to this misogynist wretch escapes me."
"Why he was allowed into the country in the first place is another matter," said Mr McElholm.
The American rapper has sold over 30 million albums worldwide.